November 29, 2009
Turkey and Wild Rice Soup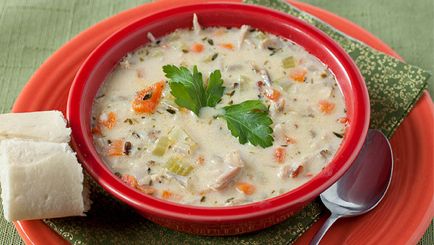 This recipe was submitted by Mike Lindner.
My wife makes a terrific turkey wild rice soup with our leftover turkey. Amounts are approximate, as she makes this from memory.
Ingredients
1 Stick Butter
1/2 C Flour
1 Onion, diced
2 Ribs celery, diced
8 oz. Mushrooms, chopped
2 Carrots, diced
Leftover turkey meat
6 C Turkey stock
2 C Cooked wild rice
2 C Cream
Directions
Melt 2T butter in saucepan.
Sweat onions, celery ad mushrooms.
Add carrots and stock.
Simmer for 10 minutes.
In separate pot melt rest of butter and mix in flour to form a roux.
Mix roux into soup to thicken it as desired.
Stir in wild rice and turkey meat.
Add cream to finish.
Salt and pepper to taste.
Photo courtesy of Back to the Cutting Board on Flickr.com.