February 27, 2012
Warning: Always Use The Right Tools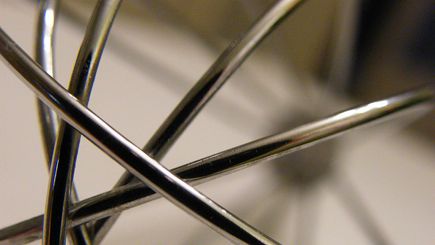 Just the other day I put together this Resources page after I realized how much it takes to put together a foodie website like CatholicFoodie.com. It's not a love for food (or even faith!) that makes this site possible. Both are essential, of course, when it comes to content. However, without certain techie tools, CatholicFoodie.com simply would not be.
When comes to getting things done, whether you're cooking in the kitchen or designing a website online, the tools you use make all the difference in the world.
And that's why I want to share some great news with you today.
The right tools save you time and money!
This is so true. I can't tell you how many times over the years I've found myself hacking away in the kitchen… trying to make a recipe work… and getting more and more frustrated. I just love those little a-ha moments that come in the middle of that frustration. "Why am I doing this? If I just spend $6 (or $10, or $20, or $60), this recipe would be a breeze!"
Yep. Monday morning kitchen wisdom from Jeff Young: The right tools make all the difference in the world!
Folks, that's why I am so excited about the new Premise 2.0. This thing is going to save me so much time and money! And it can save you time and money too.
I've used Premise on CatholicFoodie.com to create my About page and my Resources page. I used it recently to create my Mardi Gras Madness web design pages, and I've used it on client sites too. On some client sites, I have had to mix and match plugins to achieve the same functionality and features that Premise 2.0 provides right out of the box.
Awesome. Simply awesome.
I am so excited about this new Premise 2.0 update!
In addition to all the great features Premise already has (like building incredibly effective landing pages right out of the box), the new and improved version of Premise will also allow you to:
Build rock-solid membership sites with WordPress
Take recurring payments with automated access management
Automatically drip content out over time
Securely sell ebooks, software, and other digital downloads
Confidently create private forum areas with vBulletin
Quickly set up password-protected content libraries
Easily build check-out pages for PayPal and Authorize.net
And it still works with any WordPress theme or framework!
Now, here's the really cool part…
Even though Premise is now a complete digital sales and marketing system for WordPress, Copyblogger is not raising the price right away. Instead they're offering the Ultimate Plan for Premise 2.0 for $70 off the regular price of the old Premise!
Why?
Because they haven't finished the new site that shows all the new features. The plugin is done. It's ready. And it is available now. But the website that shows off all the great things it can do is not ready yet. They said they need another week or so to get the new site up and running.
Great deal for us!
Instead of holding out on this awesome release, Brian Clark wrote a post for Copyblogger that details all the new features and benefits… and the discounted price.
Premise 2.0 was just released today. It will remain at this steal of a price for only about a week. I highly recommend it.
***Whisk image courtesy of lissalou66 on Flickr.com***