May 25, 2009
Win $100 Gift Card for the Cutest First Communion Photo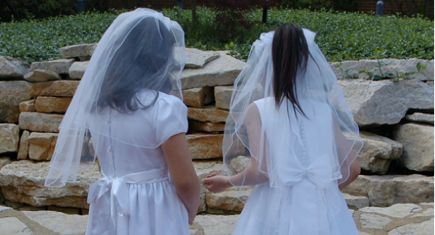 The Catholic Company, the market leader for online Catholic books and gifts, has just announced a First Communion Photo Contest. Send in your cutest pictures from the 2009 First Communion season! Bloggers, podcasters, and webmasters can also win a $50 Gift Card for referring the winning entry to the contest, so be sure to spread the word!
http://www.flickr.com//photos/catholiccompany/show/
Did your son, daughter, niece, nephew, or friend take a really cute photo this year?  If so we want to see it! We're looking for the cutest First Communion photo of 2009!
The Catholic Company staff will select our favorite photo from all the submissions and the winner will receive a $100 Gift Card to The Catholic Company!
Submission Instructions and Contest Rules:
To submit a photo to the First Communion Photo contest: email the digital photo to yourfriends@catholiccompany.com.  Please provide the following information in the email with your photo:
Child's name
The date of the First Communion
Your parish
Parents' Names
Mailing address
Email Address
Phone number
How you heard about the contest
Digital photos only, please.  You must own the copyright to the photo you submit and by submitting the photo, you grant The Catholic Company permission to display or distribute the photo on our web sites, blog, etc. We reserve the right to refuse any submissions we deem inappropriate in any way.  Only submissions received between March 1, 2009  and May 31, 2009 will be considered.  Only one photo submission per person/family/communicant. Photos must be from the 2009 First Communion season. The winner will be announced no later than June 30, 2009. The Grand Prize Winner will receive a $100.00 Catholic Company Gift Card. Three Honorable Mention Winners will receive a $50 Catholic Company Gift Card. The Gift Cards have no cash value and can be used only for the purchase of merchandise plus shipping fees at CatholicCompany.com