September 30, 2012
Authentic Chicken and Andouille Gumbo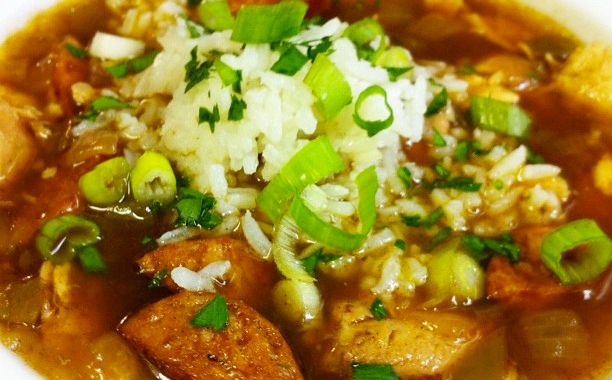 Chicken and Andouille Gumbo: It's authentic!
This is the real deal, folks. This is authentic gumbo.
This isn't store-bought. This isn't frozen. This isn't pre-packaged.
This is something you make with your own hands in your own kitchen in your own house. Or maybe at a friend's house. 😉
There's nothing like the warm nuttiness of a roux pervading the rooms of a house in the late afternoon. Gumbo-making is a community event (which is something we'll talk about a bit more later in this post). Not only can everybody smell it, but you need a big pot to make it in.
I can still think back to my days as child of 7 or 8, and I can recall the smell of my mom making roux and the happiness that smell brought me. My mom used to make chicken and sausage gumbo regularly. Gumbo is a dish of smells. Roux. Sauteing onions, celery and bell pepper. Fresh garlic. And after all of those delicious smells comes yet another delicious smell: sausage cooking in a skillet (because you have to de-grease the sausage before adding it to the gumbo).
Andouille? What's that?
And speaking of sausage, what's up with the andouille?
If you are not from South Louisiana, you may have never had real gumbo before, and you probably never heard of andouille. Andouille is a coarse-grained spicy smoked pork sausage used in gumbo to add heat and flavor. In this case, "heat" refers to "spicy hotness," or as we say down here, "it's hot with pepper" as opposed to being "hot with fire." You typically wouldn't see anyone down here eating andouille sausage, except in a gumbo or another gumbo-related dish.
Simple. Deep. Rich.
That's gumbo. Simple ingredients. Deep flavor. Rich goodness. It's an ideal dish for cooler weather. But since it tastes so good and we don't have too much cool weather down here, we often joke that as long as it's in the lower 70s it's OK to make gumbo.
I have shared with you my recipe for Turkey Bone Gumbo, which (for us) is the only reason we bake a turkey on Thanksgiving Day. Sure, baked turkey is OK. But we really just want the bones and the leftover meat for gumbo the next day. 😉
I have also shared with you my recipes for Seafood Gumbo and Shrimp and Okra Gumbo (and I even shared a Gluten-free Shrimp and Okra Gumbo). Seafood Gumbo is definitely a winter dish for us, and we usually make it only once or twice a year. Why? Because the seafood is so expensive. It certainly ain't cheap. And the Shrimp and Okra Gumbo is confusing. It's confusing because gumbo is really for cooler weather, but shrimp season and okra season span the summer. Yes, you can use frozen shrimp to make that gumbo any time of the year, but I really prefer cooking with fresh ingredients. So, I humbly confess that we did indeed have a Shrimp and Okra smack dab in the middle of summer. And it was good, yeah!
Even though I make those other gumbos and I have shared those recipes with you, I have to tell you that this Chicken and Andouille Gumbo is really  my favorite. It is the simplest to make. And it just warms my heart.
Is it 'chicken' or 'shicken'? Let's ask Justin Wilson.
One of my earliest foodie influences was Justin Wilson. He was an old Cajun fella (who wasn't really Cajun!) who did comedy and cooking. He had a cooking show long before cooking shows were all the rage. He cooked good Cajun food and told funny stories. He always made me laugh.
Even though he wasn't really Cajun, his wife was. And he worked hard to develop an authentic Cajun accent. "Chicken" was a word that he often pronounced as "shicken," as in a "Shicken and Andouille Gumbo." For your viewing entertainment, I have included a short clip here of Justin Wilson making his famous "Shicken and Andouille Gumbo." I hope you enjoy it as much as I do!
Riddle me this: Why the roux?
So why the roux? Well, first of all, without the roux there is no gumbo. No roux, no gumbo.
Roux is equal parts oil and flour. Essentially, you are frying the flour in the oil until it becomes the color of dark chocolate (but without burning it!). Why do we do this? Because that roux adds a depth of color and flavor to the gumbo that it would not have otherwise. It also thickens up the gumbo, setting it apart from any other kind of soup.
What kind of oil? What kind of flour?
I've seen rouxs made with olive oil, canola oil, vegetable oil, Crisco vegetable shortening, but I don't recommend any of those. I've seen rouxs made with butter, reduced chicken fat, goose fat, coconut oil, and even the grease from andouille. I do recommend those oils. You need something with a high smoke point. You don't want to burn the oil.
Any kind of flour will do. All-Purpose. Bread flour. That really doesn't matter much. The main thing is that you use equal parts oil and flour, and that you don't burn it. Recently, I've started adding a little more flour that oil. I find that it speeds the process up a bit. Normally, making a roux can take 20 to 30 minutes. If you are confident in what you are doing, you can make it in half the time by turning up the heat. But I don't recommend that for folks who are not veteran roux makers. It is so easy to burn a roux. And nothing smells worse in the kitchen. Well, maybe there are worse things. But burnt roux is pretty bad.
An alternative to the traditional oil and flour roux, is a dry roux made in the oven. It takes longer to make the roux, but it demands less attention. In my experience, the results are the same. Just less mess and more time to chop onions, bell peppers, and celery.
How to make a Gluten-Free roux.
If you have gone gluten-free, you can still make a roux. Just use a gluten-free flour. I made a gluten-free roux recently with gluten-free flour and coconut oil. It turned out to be one of the best rouxs I have ever made.
The not-so-secret Secret Ingredient
I know I've said this before, but I'm going to let you in on a little secret. Do you want to make the best gumbos possible? Do you want to make the best soups? Then use stocks, not water.
For this Chicken and Andouille Gumbo I recommend using a chicken stock. The stock I used the other day had been simmering on the stove for four days before I used it. It was so rich and so dark, it looked like coffee. I kid you not. For other gumbos you can use a turkey stock or a shrimp stock. Believe me, this really is the not-so-secret secret ingredient. If you put forth the extra effort to cook with stocks instead of water, your family, friends and even the folks that live down the street will thank you. In their eyes you will be a hero.
Big Pot = Big Love
And speaking of the folks that live down the street… I mentioned earlier that making gumbo is a community event. And it is. It is big pot cooking. So share the love with family and friends. Invite people over. Maybe even invite those crazy people who live down the street.
Seriously, I think that one of the reasons life is so overwhelming for all of us these days is that we are too busy for our own good. As human beings, creatures made in the image and likeness of God, we have a built-in way of combating the insanity of our busy lives: eating. We have to eat to live. And most of us eat on a schedule, three times a day. Why not take advantage of that built-in scheduled necessity and do what our parents and grandparents and ancestors did? Let's take our time. Slow down. Linger at table. Share the meal with family and friends. Let's allow our eating, our dining, to restore our humanity, which the world continuously tries to rip away from us.
Big pot. Big love. Share the love.
INGREDIENTS
1 cup butter (or reduced chicken or goose fat, or some other type of oil with a high smoke point)
1 cup all-purpose flour
4 medium yellow onions, chopped
3 green bell peppers, chopped
2 stalks of celery, chopped
6 cloves of garlic, minced
12 to 14 cups chicken stock
2 teaspoons Kosher salt
1/2 teaspoon cayenne pepper
2 bay leaves
1.5 lbs andouille sausage, de-greased is skillet or in oven, then cut links length-wise and slice (like half-moons)
The meat from two whole chickens, de-boned (I roast my chickens first)
1 cup green onions, chopped (will need extra for individual bowls)
1/2 cup parsley, chopped (will need extra for individual bowls)
1 to 2 cups of long-grain white rice, prepared according to package directions
INSTRUCTIONS
Heat your skillet over medium-high heat.
Add butter (or other oil) and heat until it begins to sizzle.
Add flour and whisk to incorporate. Continue whisking until the roux reaches the color of dark chocolate. Be careful not to burn the roux.
NOTE
: Alternatively, you can make a dry roux in the oven.
Once the roux has reached the desired color, add the onions, bell peppers, celery and garlic. Stir well, and allow to cook down for about five minutes or so. You want the veggies to soften and become translucent.
Add the stock, bay leaves, the andouille, salt, and cayenne. Depending on the volume of your veggies, you may need to add a little more stock.
Stir well, and bring to a simmer. Allow the gumbo to simmer for about 20 minutes. Add the chicken.
Reduce the heat to medium low, continuing to allow the gumbo to simmer for about 40 minutes.
Taste for seasoning and thickness. Make adjustments as necessary.
Serve gumbo over rice in an bowl. Keep Tabasco or Crystal or Louisiana Hot Sauce on hand in case anyone wants to add it to their bowl. Also have chopped parsley and chopped green onions available to add to individual bowls.
Your turn.
Like gumbo? Have a favorite gumbo story? Like to slow down and eat dinner with you family on a regular basis? Do you invite those crazy people down the street over for dinner from time to time? I'd love to hear about it! Tell me all about it in the comments below!
Bon appetit!
You can download CF141 here, or press Play to listen to it now: