October 27, 2013
Cajun Chicken Alfredo #Recipe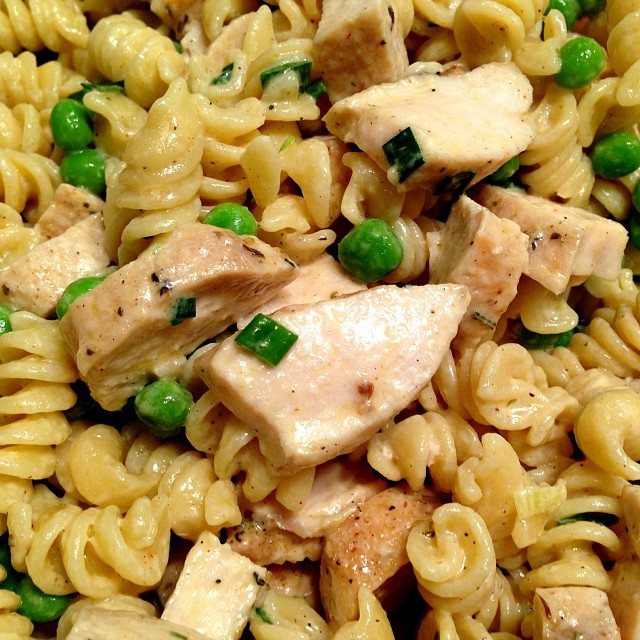 Cajun Chicken Alfredo
I threw this recipe together just the other evening. We wanted something quick and delicious, and we only had a few ingredients on hand. We were still recuperating from our awesome trip to Boston for the Catholic New Media Conference, and I had not had the chance to restock my kitchen. I had to use whatever I had on hand. Luckily, I had some chicken breasts in the freezer and (even more luckily!) I had the foresight to take them out to thaw during the day.
Everything else we had in our fridge or in the pantry. Except for the cheese. But my wife was able to make a quick stop at the store before picking up the girls from gymnastics.
This turned out to be a wonderful meal. Tasty, fairly light, and super fresh. I only wish I would have had some crimini (Baby Bella) mushrooms on hand. I did not, though. Also, I would have loved to have some homemade chicken stock to add. The chicken stock would have thinned out the Alfredo sauce just a bit. Nevertheless, this was a delicious dish! A clear winner!
Cajun Chicken Alfredo Recipe
INGREDIENTS
4 boneless and skinless chicken breast halves
¼ cup extra virgin olive oil
1 tablespoon oregano
½ teaspoon red pepper flakes
1 cup peas
16 oz of Rotini pasta (cooked al dente according to package instructions)
4 green onions, chopped

For the Alfredo Sauce
1 cup of half & half
3 tablespoons butter (we prefer Kerrygold)
1 tablespoon extra virgin olive oil
3 cloves garlic, minced
¼ cup fresh grated Parmesan or Romano cheese
Pinch of salt & freshly cracked black pepper
Cajun seasoning, to taste (we prefer either Konriko or Tony Chachere's Bold)
INSTRUCTIONS
Flatten each breast with your hand and slice horizontally once to make them thinner. This helps the breasts to cook more evenly and more quickly.
Place the 8 slices of chicken breast into a large dish. Cover with ¼ cup of olive oil. Add oregano and red pepper flakes and mix well. Cover and allow to marinate in the fridge for at least an hour.
Prepare the pasta al dente according to package instructions. Drain and set aside.
When you are ready to cook the chicken, heat a large heavy-bottomed skillet over medium heat. Season each breast with Cajun seasoning, to taste, and pan fry until almost cooked through. Remove from heat and allow to cool. Once cool, slice each breast into bite-sized pieces. Reserve.
In another large skillet over medium heat, add the butter and a tablespoon of olive oil. Add the garlic and sauté for about two minutes, stirring frequently to avoid burning it.
Stir in the half & half and add a pinch of salt and black pepper. Simmer for about 2 minutes, then stir in the Parmesan or Romano cheese. Stir well to mix thoroughly.
Stir the rotini into the sauce. Add the chicken and the peas. Taste for seasoning and add salt, pepper and Cajun seasoning as necessary.
Stir in the green onions and serve. Garnish with extra green onions and Parmesan or Romano cheese.
NOTES
You can also add sliced crimini (Baby Bella) mushrooms when you add the chicken.