January 11, 2011
CF103 – Soup is Good Food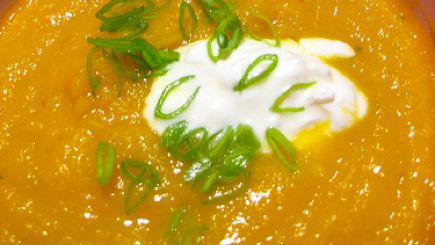 SHOW NOTES FOR EPISODE 103

This is Jeff Young, the Catholic Foodie, at catholicfoodie.com, and you are listening to episode 103 of the Catholic Foodie: Soup is Good Food.
Welcome, folks, to the Catholic Foodie, where food meets faith. I'm your host Jeff Young, and today we are talking soup. Mmm-mmm, Soup is good food! And there are so many different kinds of soup! We'll talk about about a few of them, and I share a couple of recipes with you, one for Cream of Chicken Soup, and one for Seafood Gumbo… And we'll talk about how you make a very important ingredient for many soups: stock.
Sarah Reinhard joins us today with her Mary in the Kitchen segment, in which she will talk about love notes in the sky. Hmmmmm…
All this and more, right here, right now, at the Catholic Foodie, where food meets faith!
I want to start off by thinking our sponsor: DivineOffice.org. DivineOffice.org provides the complete Liturgy of the Hours online on their website, also as a podcast that can be downloaded and played on your computer or some other MP3 player. They also produce the DivineOffice iPhone / iPad app. And now, as of last week, they produce the Divine Office app for Mac.
And, thanks to DivineOffice.org, I happen to have a few codes to give away. This isn't a contest, per se. Because the new Mac app store is so new. And because I really want to help build up the ratings and reviews for this new app, I am going to give away these codes to folks who are willing to spend a few minutes rating the app.
Now, this is a little tricky because the app store is so new. You have to be running 10.6.6 on your Mac in order to even access the store. If you are running 10.6.6 and you are willing to spend a few minutes leaving a great rating for the app, then please email me at jeff@catholicfoodie.com. I only have a few of these codes, so please don't wait. I really want to help the folks at DivineOffice.org get as many 5-star reviews as possible on the new app store. This is very important to help promote excellent Catholic content on iTunes and the new app store. Again, if you would like to get the app for free, shoot me an email at jeff@catholicfoodie.com.
And, thank you again to DivineOffice.org for sponsoring the Catholic Foodie.
SOUP
I've been thinking about soup quite a bit lately. Just last week I was a guest on In Good Faith with Sr. Julie and Sr. Maxine at anunslife.org. It was a lot of fun. One of the things that we talked about was Seafood Gumbo. Of course, Seafood Gumbo is a type of soup. Also, it just so happens that Char made a Cream of Chicken Soup recipe last week that she found on the Nourished Kitchen website at nourishedkitchen.com. The recipe was an adaptation from James Beard's famous Fireside Cook Book. I've never had a soup like that one.
And that's what got me thinking… Soup: It really is good food.
I think there is something very appealing about soup right now. True, it's winter. And what's better than a hot bowl of soup in the winter? But I think soup is appealing for other reasons too. Typically, it's easy to make. It's convenient. It's economical. And it's versatile… with almost limitless variations.
There are so many different types of soups. There are meat & vegetable soups, cold soups, fish soups, broths, bisques, chowders, cream soups, gumbos and more.
Soups are healthy too. Believe it or not, I've been a picky eater most of my life. I eat a lot more now, but there are still some things that I won't eat. But, goodness, growing up I hated vegetables. But when I was a teenager, I discovered that I could easily make myself eat veggies if they were in soups. Eventually, I started to actually like those veggies. But, what a great way to get picky kids (or adults!) to eat their veggies. Soups are an easy way to camouflage the veggies, especially if the soup is pureed or blended.
A few weeks back I shared a recipe on the show for a pumpkin soup with kale and italian sausage. Now, here's a secret: I hate kale. I think it stinks. Literally. But, the recipe came from my favorite local restaurant, Del Porto in Covington, LA. And I really liked it. Both at the restaurant and when we cooked it at home. I still don't think that I would eat kale any other way, but I like it soups!
Another benefit of soup, one that I did not think of immediately, is that it really does help to control hunger. What do I mean by that? Well, if you are eating a hearty soup, you have the meat and veggies to fill your belly, right? But the liquid of the soup is also filling your belly. When you eat soup, it's hard to overeat. I'm not saying it's impossible. I'm just saying that you typically get those "hey, I'm full now" warnings before you actually are full. Even if you feel full, your body processes that liquid more quickly than it will the heartier stuff. So you won't feel full for long.
So how about that? Soup. It's easy to make. It's convenient. Economical. Versatile. Healthy. And it helps control hunger. Soup really is good food.
Oh, and if it's your main meal, there are less dishes to wash!
STOCK
Many soups call for a special ingredient, something more flavorful than water. I'm talking about stock. I use stock in all my gumbos. As a matter of fact, I used my last bit of chicken stock last night while making Grillades. If you don't know about Grillades, well… I guess I need to post the recipe at catholicfoodie.com. But, the stock came in really handy last night.
So what is stock?
There are different types of stock, but today I am going to limit myself to stocks made from meat or bones. I make stocks regularly. As a matter of fact, I always seem to have a bag of bones somewhere. Usually in the fridge or freezer. If I bake a chicken, I always save the bones afterwards, sticking them in a plastic freezer bag until I have time to make the stock.
Stock is made by simmering various ingredients in water, usually for at least a couple of hours. In the end, all the solids are strained and discarded, and you are left with a very flavorful stock.
In the stocks that I make, I use onion and celery, salt and black peppercorns. Sometimes carrots. And really, I usually only make chicken (or turkey) stock and seafood (shrimp) stock. Oh, and I usually use just a bit of salt. Not too much since the stock will be used again in another dish, a soup or a sauce.
For the chicken or turkey stock, I use the leftover carcass (and sometimes leftover meat… especially if my thanksgiving turkey was overcooked). Also, as I just mentioned, I use the bones from chickens that I may have stashed away in the freezer. For the shrimp stock, I use – believe it or not – shrimp heads and shells.
The cartilage and connective tissue in the bones is what gives stock its flavor. When making a stock from bones, you have to simmer the pot longer than if you were making it from meat only.
Here's a tip: Since all of the solids are going to be thrown out (you could try to salvage meat, if you wanted to use it in a soup), you can use the less desirable or less appealing parts of the veggies. Such as the tops of carrots, the skins, or the ends of celery.
Here's another tip: If you use black peppercorns in your stock, tie them up in a tea bag. It'll keep them all together, and make it easier to dispose of them.
Stocks can be used immediately, while they are fresh. Or they can be frozen pretty much indefinitely.
You can find my recipe for Turkey Stock at https://www.catholicfoodie.com/turkey-stock/.
RECIPES
James Beard's Cream of Chicken Soup
MARY IN THE KITCHEN
Thank you, Sarah, for another wonderful reflection in our Mary in the Kitchen segment. And Happy Birthday to you, as well. This past week Sarah celebrated her birthday. Happy Birthday, Sarah! You can find more of Sarah Reinhard at her website snoringscholar.com.
SIMPLICITIES OF LIFE
I don't know about you, but I love beautiful things. I also love prayer. AND I love when these two things come together. That happens sometimes when I am at a church with a particularly beautiful crucifix, or when I am encounter a strikingly beautiful and almost life-like statue of Our Lady. I love when those kinds of things happen. And, I can say that it has been happening every time I pray my rosary since the beginning of November when I received my new rosary from Simplicities of Life at simplicitiesoflife.com. Wow. You talk about beautiful! If you are looking for the perfect gift for a friend or loved one, or maybe even a little treat for yourself, then visit simplicitiesoflife.com. Kessie and Coby Thomas are doing incredible work over there. And, what's more, is that they are a beautiful Catholic family who have surrendered their gifts and talents to the Lord. Simplicities of Life is Holy Spirit led. Go visit them and let them know that I sent you.
CLOSING
Thanks, Jamie! Oh, and Jamie, just to let you know, I got your Cooking at Home cookbook for Char as a Christmas gift. Excellent! We love it! Keep up the good work.
OK, folks, we are coming to the end of our show today. I just want to share few things with you there, before I bid you adieu…
First of all, the SQPN Giving Campaign is in full swing. SQPN, the Star Quest Production Network, is a Catholic non-profit, it is also a powerhouse of Catholic new media. And it cannot exist without listener support. Please prayerfully consider making a donation to help SQPN reach its goal of $150.000. They are currently at only 44% of that total. Thank you for supporting SQPN.
If you haven't yet tried my coffee, you need to. The Morning Blend. It's fresh-roasted specialty coffee. You can read all about it /coffee
And, speaking of catholicfoodie.com, you ought to check it out. There are recipes, reviews and lots of blog posts there… stuff you might never hear about in the show. And, of course, the show notes are there too. CatholicFoodie.com. Be sure to comment when you stop by.
You can also visit me at facebook.com/catholicfoodie and on twitter at twitter.com/catholicfoodie. And I LOVE hearing from you. Call the listener feedback line at 985-635-4974 and let me know what's going on in your kitchen… or how much you loved the Catholic Foodie coffee! I look forward to hearing from you.
And, until next time… Bon appetit!
To leave feedback for the Catholic Foodie, call 985-635-4974 and leave a message. You can also leave feedback for me at jeff@catholicfoodie.com.
Download episode 103 here or listen to it below:
Get new episodes of the Catholic Foodie by subscribing for free via iTunes or in another podcatcher. Find me also at SQPN.com.
You can also find me at:
the Catholic Foodie on Facebook
the Catholic Foodie on Twitter
And over at http://jeffyoung.me
Image courtesy of mamichan on Flickr.com.