January 14, 2014
Chef John Besh: Cooking from the Heart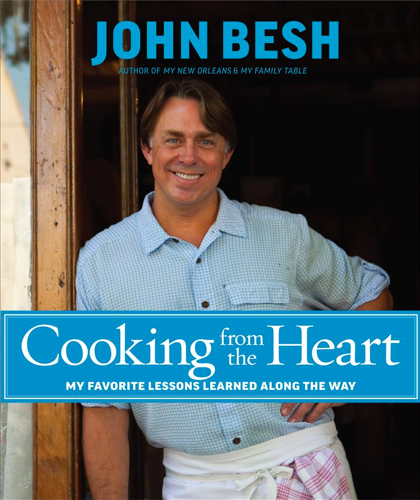 Chef John Besh Releases New Cookbook: Cooking from the Heart
Just before Christmas I wrote an article about the new Besh Box initiative that Chef John Besh launched in November. The Besh Box is essentially a subscription-based, hand-picked gourmet cooking kit. You can read all about the Besh Box by clicking here: Chef John Besh's New Besh Box.
But the Besh Box wasn't the only thing that John launched in November. He also released his third cookbook: Cooking from the Heart: My Favorite Lessons Learned Along the Way.
John Besh is a local New Orleans boy, born and raised just east of here, in Slidell, LA. He is a successful restauranteur, running 8 restaurants in New Orleans and 1 in San Antonio. He is a recipient of the James Beard Award, a philanthropist, an author, a TV personality, a good Catholic, and a husband and father. John Besh is dedicated to his faith, to his family, to New Orleans and its culture and cuisine, to real food, to seasonal ingredients and to the message of the importance of families eating together around the table as often as possible.
Getting Families Around the Table
John Besh practices what he preaches. Although he is owner and executive chef of 9 successful restaurants, he can be found at home most afternoons cooking dinner for his wife and three sons.
John Besh proclaims a message that is right in line with what The Catholic Foodie is all about. He sees clearly the relationship between food and people… how food brings us together… how we can and do experience communion around the the table. I love the opening he wrote to his second cookbook, My Family Table, and I often go back to re-read those pages because it is a rallying cry – a plea even – for families to get back around the family table daily. Here is just a few excerpts from that introduction:
"This may seem a strange case for a chef to make, especially one who owns seven [now 9!] restaurants and lives to cook in every one of them; a guy who's clocked many hours cooking on television, running charity fundraisers, etc. And I do not mean to suggest, of course, that we should stop supporting our wonderful local chefs. Far from it.

"But today a terrifying wasteland of food options lurks between our kitchen stoves and our favorite restaurants. The packaged foods we use are loaded with salt and sugar and a whole lot of other things that are anything but good for us, our meat is shot up with hormones and antibiotics, our produce is sprayed with God-knows-what, and fast food options are the devil's work. This is not healthy. This is not real. I did not grow up in this kind of world and I don't want my children to grow up this way either….

"I worry that the more cooking becomes entertainment and a spectator sport (instead of a family activity) and the more we fetishize celebrity chefs, the awful result is that we discourage folks from even setting foot in their kitchens. More and  more, I'm concerned that by glamorizing chefdom, we turn off the very thing we seek to promote: getting people excited about cooking dinner….

"My New Orleans, my first book, is a worthy tribute to my home town; in that book I did my best to ensure that tradition and culture is passed on to future generations. But I know that every family needs another, more expedient way to cook. Hence My Family Table." – From the Introduction of My Family Table
Culture, Cuisine, and Family Lead to the Heart
John's first book, My New Orleans, captured the charm and mystery of the great city of New Orleans, a city whose culture and history are inextricably linked with food. Just like his second book, My Family Table, the recipes in My New Orleans are accessible to most home cooks. That was part of his goal… to break down the recipes in such a way that you can make a "Risotto of Almost Anything," a "Simple Meat Ragout for Any Pasta," and a "Creamy Any Vegetable Soup," so that you can cook with whatever you have on hand.
John's latest book is something of a departure of sorts. Whereas his first two books provided recipes that were accessible for most home cooks, his new books might be just a little out of reach for many of us. But it's good to stretch our culinary muscles and to expand our repertoires. It's also important to keep in mind that those "fancy recipes" (like Wild Boar's Head Pate, Squid with Spaghetti & Bottarga, and Sauteed Potaotes with Quince & Onions) aren't really what the book is all about. Rather, John takes us on a tour of the "old country" to show us the lessons he learned. In doing so, he also shows us a bit of our own history, some of which we may have forgotten, and all of which we long to have back… even if that longing is a secret that we keep from ourselves.
In his highly anticipated third cookbook, Cooking from the Heart: My Favorite Lessons Learned Along the Way, John reveals with ready good humor his journey of discovery: learning the lessons that really matter to him as a cook, lessons learned in the kitchens of his mentors, sometimes the hard way, and often at his own expense.
Cooking from the Heart recalls the places, lessons, and mentors that shaped John's culinary journey. His engaging personal narrative takes the reader to his touchstones, from the heart of Germany's Black Forest to the sun-drenched south of France. Each chapter features a lesson learned, told in Besh's own charming style, full of heartfelt memories and delicious recipes.
Chef John Besh Joins Us on Around the Table Food Show
Listen to the Around the Table Food Show by clicking on the "play" button below. Or to download the MP3 version and listen at your convenience, just right-click this link and save it to your computer: Chef John Besh: Cooking from the Heart.
LIBSYN
Videos of Chef John Besh