November 11, 2013
Finding God in All Things, Including the Kitchen
The Culinary Arts and Prayer: Finding God in the Kitchen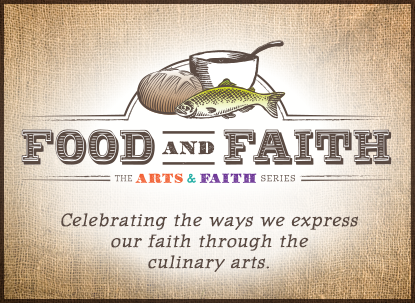 For me food and faith go together like peanut butter and chocolate. That's what The Catholic Foodie is all about. After all, it is "where food meets faith."
And that's why I am so excited about this new Food and Faith series by Loyola Press. It just jives so well with what The Catholic Foodie is all about.
Considering where I come from – and the experiences that I have had up to this point in my life – it is very easy for me to see the connection bewteen food and faith. I do find God in the kitchen. I do experience what St. Teresa of Avila once told her sisters, "God walks among the pots and pans." And I distinctly remember reading The Practice of the Presence of God by Brother Lawrence when I was in the seminary and shouting "YES!" when I read that he found God even among the pots and pans in the kitchen. In his notes, he wrote, "The time of business does not with me differ from the time of prayer; and in the noise and clatter of my kitchen, while several persons are at the same time calling for different things, I possess God in as great tranquility as if I were upon my knees before the Blessed Sacrament." That's powerful!
The new Food and Faith series by Loyola Press will dish up for us over 30 stories of the way that different people encounter God through the culinary arts. Don't miss out on the culinary and spiritual inspiration! The series starts today and runs through Thanksgiving.
Loyola Press: The Culinary Arts Added to the Arts and Faith Series
I announced on Friday that Loyola Press kicks off it's Food and Faith series this month, celebrating the ways that we express our faith through the culinary arts. Sounds right up my alley, doesn't it? The series actually starts today. To celebrate, I am publishing two podcast episodes… it's a two-part interview with Rosemary Lane of Loyola Press. We talk about food and faith and about the delicious inspiration that Loyola Press has in store for us between today and Thanksgiving. I'm so excited!
A Food Network priest who cooks to bring families together. A small-business owner who adds sizzle to his parish's 40-year-old fish fry. A food writer who pours her faith into her Lebanese cooking. A former chef-turned-Jesuit who finds God at the table.

These are a few of the fascinating stories presented in Loyola Press's Food and Faith, a new series that celebrates the inspiring ways Catholics express their faith through the culinary arts. Hosted at LoyolaPress.com, this collection of stories examines food and faith just in time for Thanksgiving.

The connection between food and faith has always been present, from Jesus' first miracle at the wedding at Cana to today's celebration of the Eucharist at Mass. We continue this tradition of nourishing our soul as well as our body with every food drive and pancake breakfast shared in the parish hall. Loyola Press is excited to illuminate all the ways we feed our souls at the intersection of food and faith.

As part of the popular Arts and Faith series, Food and Faith delves into the stories and lives of people who use the culinary arts to find God. The series will begin the second week of November and lead up to Thanksgiving, a time when families break bread together and reflect on the good God has brought into their lives. Like the many other stories in the Arts and Faith series, the Food and Faith collection will remain online for readers to enjoy and share season after season.

The series captures the personal and public ways faith is explored, expressed, shared, and celebrated in our families, parishes, and culture. Loyola Press hopes these 30+ stories inspire readers to tap their own talents to express their faith through cooking, baking, gardening, harvesting memories, or simply enjoying good food with great company.

Whether you're a chef de cuisine or can barely make toast, Food and Faith shows there's always a place at God's table. Jump in, explore the stories, and share the creative ways you're expressing your faith at http://www.loyolapress.com/arts-and-faith.htm.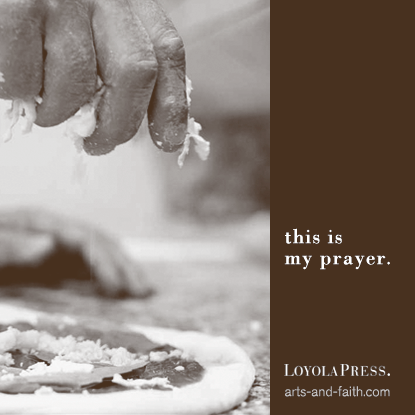 Click the play button below to listen to Part 1 of my conversation with Rosemary Lane.
Click the play button below to listen to Part 2 of my conversation with Rosemary Lane.
Thanksgiving Turkey Recipe: Pepper-Stuffed Turkey
In Part 2 of the podcast above, I walk you through preparing our favorite Thanksgiving Turkey recipe. This recipe comes from my friend Marcelle Bienvenu. It appears in Louisiana Real & Rustic, a cookbook she co-authored with Emeril Lagasse. We tried this recipe for the first time in 2008, and it has become our go-to recipe for Thanksgiving turkey. The one complaint that I tend to hear from people who only bake a whole turkey once or twice a year is that there is always a danger of it coming out too dry. But that won't happen with this recipe. I have never seen a turkey come out of the oven juicier than the turkeys we have roasted according to this recipe.
Try out this Pepper-Stuffed Turkey this Thanksgiving and let me know what you think. It might just become your new go-to turkey recipe too. You can find the full recipe by clicking on this link: Pepper-Stuffed Turkey for Thanksgiving.
Bon Appetit!