April 25, 2009
Love to Cook? Got a Mac? You Need SousChef!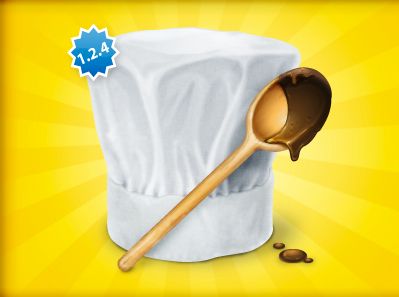 More than just a way to organize recipes, SousChef actually helps you cook. This handy Mac app, developed by Acacia Tree Software, can do it all: organize and search, share via email and blog post, import from just about anywhere, and read your recipes to you while you cook. It will even make a grocery list for you!
SousChef is a community app. Unlike other recipe apps that help you organize your own recipes in isolation, SousChef plugs you into a larger community. You can search not only your recipes, but also those of thousands of other SousChef users. How is this possible? SousChef provides access to a database called the "cloud." At the time of this post, there are 55,799 recipes on the cloud, all accessible by you. True, there is always Recipezaar andFoodista (and I love them both!). But, as you will see, SousChef takes using recipes a bit further. SousChef actually helps you cook those recipes.
One of the coolest features of SousChef is what they call the 10-foot mode. With the 10-foot mode, you can actually bring your laptop into the kitchen. Now, I am very cautious with my electronics. Well, okay, I am more than a bit cautious. I don't want my laptop too close to the stove or to the counter where I am mixing ingredients. I think 10 feet is a safe distance.
So how does the 10-foot mode work? In 10-foot mode SousChef goes full-screen with a black background and white text. Large white text, easily visible from 10 feet away. The app will walk you step-by-step through the recipe. It can scroll through automatically, or you can set it to respond to voice commands or use an Apple remote. And if that's not cool enough, you can also have the app read the recipe to you! That's right. SousChef can read. [By the way, you can now use your iPhone or iTouch as an Apple remote!]
SousChef not only allows you to catalog your own recipes, but it also gives you access to thousands of recipes by other users via the "cloud." You can search the cloud in many different ways: by recipe title or by different ingredients. Let's say you want to cook chicken tonight, but you can't decide how you would like to prepare it. Simply type "chicken" in the ingredient field and the cloud provides a list of all the recipes containing chicken. To narrow down your search, you can list several ingredients, like whatever you happen to have in your fridge today, and the cloud will tell you which recipes you can make. It will even search for common substitutions.
You can "favorite" the recipes you like. Whether you want to track your most recently imported recipes, or the ones you have already cooked, you can create folders to store your recipes. I have a Cajun / Creole folder, and folders for Italian, Mexican, Mediterranean and Thai. I also have a folder for family recipes. But what about those "secret" family recipes? I can tell SousChef not to publish those to the cloud. I've gotta keep my secrets!
Not only can you search the recipes of other SousChef users, but you can import your own too. That notebook you keep in your pantry, the one with all the recipes you have collected over the years… you can put all of those in SousChef. Now, the ones that you don't already have in digital format will have to be entered manually. But, SousChef makes that process rather painless. You can also import recipes you have on your Mac or those you find online. Simply copy the text and SousChef does the rest.
Isn't it nice to be able to share your recipes with others? With SousChef, in addition to the cloud, you can share recipes with friends and family via email. You can also post it to your blog, as I have done with my grape leaves / cabbage rolls recipe.
SousChef is compatible with Macs running Tiger 10.4.9 or higher. It is distributed as a universal binary. An internet connection is necessary to take advantage of all the features. Cost is $30. A license can be purchased within the application once you have downloaded the demo.
From start to finish, SousChef is designed to make you a fabulous cook!
Bon appetit!