October 20, 2011
Shrimp Stock: The Catholic Foodie's Recipe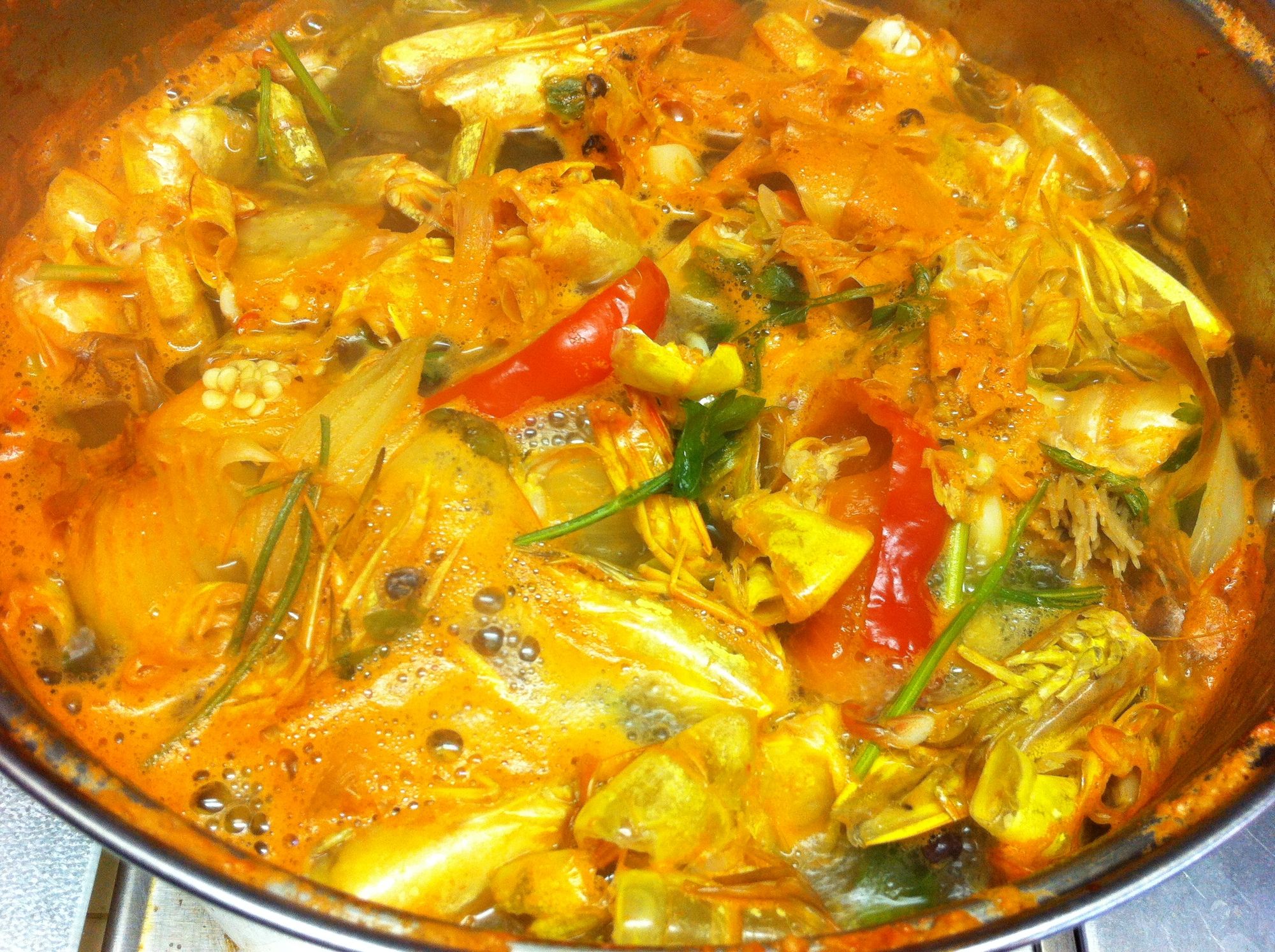 I love me a good seafood gumbo, that is for sure. Especially now that it is getting somewhat cooler down here in New Orleans (at least for this week!). Fall is good gumbo weather. And one of the essential ingredients for a warm and delicious gumbo is a good stock.
I make chicken stock from chicken bones almost weekly throughout the year. We use chicken stock for soups. And every year, after Thanksgiving and Christmas, I make a turkey stock in preparation for my turkey-bone gumbo. YUM! And a couple of times a year, I make beef stock from the bones of grass-fed cows.
When you want to make ANY kind of soup, stock is the way to go. It's so much more flavorful than water.
So, when it's time to start making gumbos (when the weather down here becomes just mild enough to chase away the mosquitos in the evening), I start buying fresh gulf shrimp and making shrimp stock!
Stock is such an easy thing to make. And shrimp stock is not only easy, it's quick too. My weekly chicken stock simmers for 24 hours. But my shrimp stock simmers for only one hour!
And it can be used right away if your itching to make a seafood gumbo or a shrimp bisque or a crawfish étouffée. It can also be cooled and reserved in resealable plastic bags and stored in the fridge or freezer (just in case you have to wait a day or week or month before making that gumbo!).
Anyway, here's the Catholic Foodie's recipe for shrimp stock. If you make it, let me know what you think! Call the feedback line at 985-635-4974 and leave a message (I'll play it on the show!). Or email me at jeff@catholicfoodie.com, or leave a comment below!
INGREDIENTS
3 to 4 medium yellow onions, quartered
2 green bell peppers, quartered
2 ribs of celery, cut into large pieces
1 head of garlic, cut in half
Stems from 1 bunch of parsley
Shells and heads from 3 to 4 pounds of shrimp
2 gallons of water
Kosher salt, to taste
Dash or 2 of ground cayenne
1 tablespoon black peppercorns
DIRECTIONS
Place the onions, bell peppers, celery, garlic, parsley stems, and 2 gallons of water into a large stockpot.
Add salt, cayenne, black peppercorns, and bring to a boil. Allow the pot to boil for about 45 minutes.
Add the shrimp shells and heads, then reduce heat to medium-high, simmer for 1 hour.
Strain well. Stock can be used immediately, or it can be stored in the refrigerator or the freezer.
This recipe will yield approximately 1.5 gallons of stock.