November 12, 2013
Chicken Soup with Greens, Cremini Mushrooms and Crispy Bacon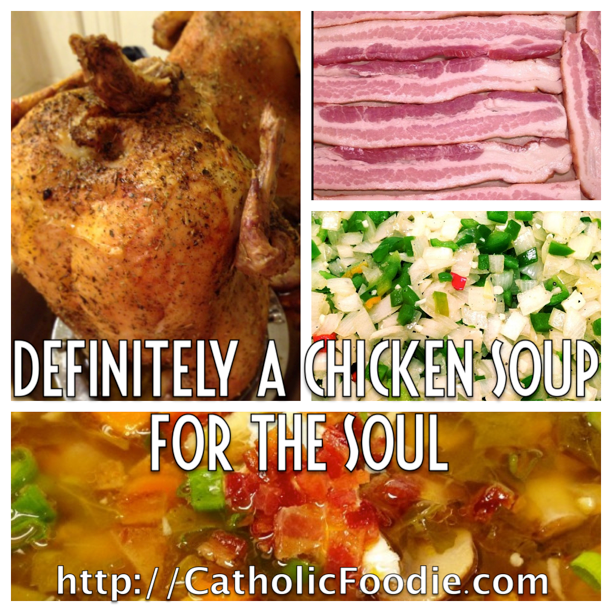 Hey, There's Something Green in My Soup! Harnessing the Power of Greens
My love of dark leafy greens has been a life-long journey. By that, I mean that I have journeyed from disgust to enjoyment, and it has taken a long time to arrive at my current destination.
Growing up, I hated greens. The only green vegetable my mother could get me to eat was iceberg lettuce. Even then, I could only get it down if it was drowning in Wishbone Italian Dressing. If forced to, I could manage to get peas and green beans down by utilizing the Swallow-without-Chewing technique. Of course, that technique demands a lot of water and frequent trips to the bathroom. It doesn't make for an enjoyable dining experience.
It wasn't until college that I willingly ventured into the fresh new world of Romaine, Red Leaf, Green Leaf, and Bibb. And, sadly, it wasn't until after I was married that discovered the joys of Spinach, Kale, and "the greens" (Mustard, Collard, and Turnip), and so many other things: Arugula, Radicchio, and red and green Cabbages.
I admit, though, that I am still working my way up to Broccoli. I'm not there yet. 😉
But I've got to tell you, there's power in dem greens! I wish I had discovered them earlier.
According to Amanda Kay at Suite101.com, "The nutritional benefits of dark green, leafy vegetables, such as kale, spinach and collard greens, continue to be discovered by researchers and nutrition experts. It is well known that the darker the leaf, the more dense the nutritive value of the vegetable." Heart-healthy and delicious, many studies show that dark greens are an excellent way to reduce diabetes and even prevent certain types of cancer. Rich in vitamins A, C, and K, and rich in folate, iron and calcium, dark leafy greens are definitely good for the body.
Soups are an excellent way to introduce dark leafy greens to finicky eaters. That's how I first tried kale… and mustard greens.
Know someone who needs a little help getting the greens down? Try this soup on them. And let me know how it turns out. I'm sure the bacon will help. 😉
Chicken Soup for the Soul… and Tummy!
With the arrival of cold weather (even down here in south Louisiana!) comes also the common cold. And if you're feeling under the weather, there's nothing better than a bowl of hot chicken soup.
When it comes to fighting a cold, chicken soup may be more powerful that over-the-counter medicine. Of course, this chicken soup is so yummy that you won't want to wait until you are sick. I made it last night. It was so good that I am doing a repeat tonight. Maybe we should think of it as preventative medicine. 😉
I've noted before that – when preparing recipes with chicken – I tend to start with the whole bird. I like to buy whole chickens, roast them, and save the bones. I make stock from scratch. It's so delicious and so much better for you than store-bought stock. It's also super-easy to make.
The following recipe will make a large pot of soup, one that will feed 10 to 15 people at one sitting. If you need to make less, just halve the recipe. I like to make big pots of soup because I am feeding a family of five. We will either eat on the soup for dinner two or three days in a row. Or, I'll freeze it after the first meal. That will come in handy for a future dinner when I am really pressed for time.
Try this chicken soup out and let me know what you think!
Chicken Soup with Greens, Cremini Mushrooms and Crispy Bacon Recipe
INGREDIENTS
2 whole chickens, roasted and deboned
1 pound pickled pork, or other seasoning pork
20 cups of chicken stock
3 large sweet yellow onions, chopped
3 green and/or red bell peppers, chopped
6 to 8 cloves of garlic, minced
2 tablespoons of bacon grease (or coconut oil) for sauteing
3 to 4 carrots, peeled and sliced
1 pound fresh green beans, chopped
1 pound Cremini mushrooms (Baby Bella), washed and sliced
2 quarts greens (turnip, collard, mustard, kale or spinach), washed and chopped
Kosher salt, freshly cracked black pepper, and cayenne to taste
Sriracha to taste (optional)
1 lb crispy bacon
Green onions (scallions) to garnish bowls
INSTRUCTIONS
Heat the bacon grease or oil over medium-high heat in a large, heavy-bottomed pot or Dutch oven. Add the onion, bell pepper, and 1 teaspoon of salt, 1 teaspoon of black pepper, and ½ teaspoon of cayenne. Sauté, stirring occasionally, until the veggies are softened and are starting to brown, about 8 to 10 minutes. Add the garlic and sauté, stirring frequently, for about 2 minutes.
Add the stock and bring to a boil. Reduce heat to a simmer, and add the pickled pork (or other seasoning pork) and the carrots. Simmer, stirring occasionally, until the vegetables are completely tender, 20 to 30 minutes.
Remove the pickled pork and either shred it with two forks, or dice it with a knife. Then add it back to the pot.
Stir in the chicken, the green beans, the greens, and the mushrooms. Simmer, stirring occasionally, until all is tender and the flavors marry, about 10 to 20 minutes.
Season with salt, pepper, and cayenne (or Sriracha) to taste and garnish each bowl with chopped green onions and a pinch of crispy bacon.
NOTES
For a little extra tart-sweetness, squeeze a fresh lemon wedge over individual bowls when served.