November 4, 2013
Holiday Gift Idea: The Elixir of the Seven Powers #Recipe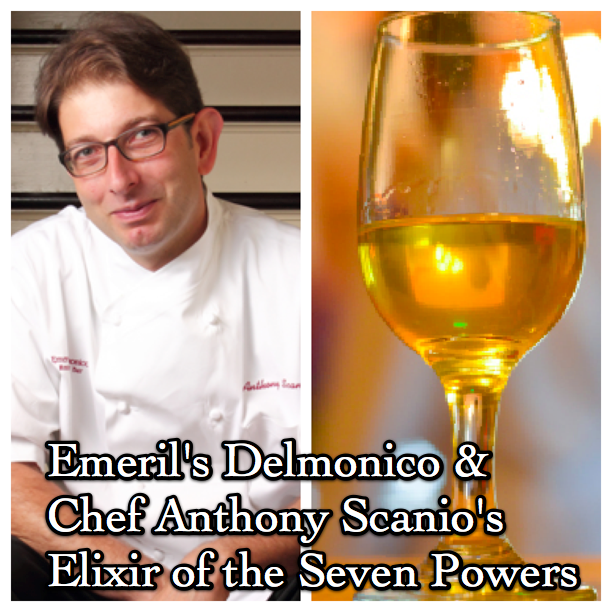 An Early Holiday Gift Idea
I'm not much for Christmas music, Christmas commercials, and the onslaught of Christmas advertising before the month of November even starts. Actually, I would prefer to celebrate Advent before the Christmas season… because that's how the seasons are set up by design.
However, I have a holiday gift idea to share with you, and I want to share it now – well in advance of Christmas – because this gift will take a bit of planning and a little time before it is ready to be gifted.
Chef Anthony Scanio of Emeril's Delmonico and the Elixir of the Seven Powers
A couple of weeks ago, I wrote an article about the interview on the Around the Table Food Show with Chef Anthony Scanio, Chef de Cuisine at Emeril's Delmonico. In the interview we talked about "culinary alchemy" and how cooking is all about transformations. It was was intriguing!
One of the examples of culinary alchemy that Chef Anthony used was his recipe for the Elixir of the Seven Powers. It's a cocktail, one that you can make with your own hands and gift to those you love. And the relatively cool temperatures that we have in south Louisiana around Christmas make it the perfect time to make, gift, and share this delightful digestif.
I have to admit, too, that I was so fascinated when I heard about this recipe. The Seven Powers reminds me so much of my honeymoon on Margarita Island, Venezuela. I remember walking the streets and the beaches with my bride and reading signs outside of restaurants that featured La Sopa de la Siete Potencias… The Soup of the Seven Powers, which was made with seven different types of shellfish.
There's just something about seven. In addition to the Elixir of the Seven Powers and the Soup of the Seven Powers, the number seven reminds me of the Italian tradition of the Feast of the Seven Fishes, which we have celebrated with family at my brother-in-law's house on Christmas Eve for the last few years. It is always such a delight!
As I mentioned, you will need to do a bit of planning to make this elixir, but it is well worth it!
Cheers!
Recipe: The Elixir of the Seven Powers
The Elixir of the Seven Powers recipe below is published here courtesy of Emeril Lagasse and Chef Anthony Scanio of Emeril's Delmonico. It is shared with permission by Susan Ford, publisher of Louisiana Kitchen & Culture Magazine.
INGREDIENTS
4 bottles (750 mL) semi-premium vodka (100 proof)
2½ tablespoons whole anise seeds
16 whole fresh mint leaves
1 teaspoon whole cloves
½ stick cinnamon
2 vanilla beans, split and scraped
4½ cups sugar
4½ cups water
2 tablespoons orange flower water
1 large pinch saffron threads
1 large piece cheesecloth, rinsed and folded
INSTRUCTIONS
Combine vodka, anise seeds, mint leaves, cloves, cinnamon, and scraped vanilla beans in a large glass or non-aluminium container; stir. Cover well, set aside in a cool, dark place for 6 days to infuse.
On the seventh day, combine sugar, water, orange flower water, and saffron threads in a large saucepan over medium heat. Bring mixture to a simmer; stir constantly until sugar dissolves. Remove from heat; set aside to cool.
Once syrup has completely cooled, add infused vodka; stir to combine. Strain through several layers of cheesecloth; bottle in sterilized bottles as desired. Store in a cool place. Serve the spirit chilled in small glasses as an after-dinner drink.
NOTES
Makes about 5 liters.

This recipe requires good vodka and a bit of your time; it makes a great, personal, holiday gift that any spirits connoisseur would love.