August 4, 2013
Lebanese Stuffed Bell Peppers with Labneh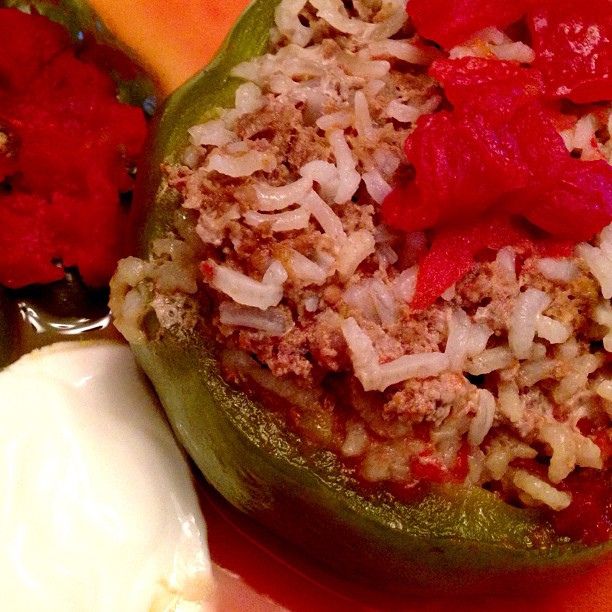 Bell Peppers Are Perfect for Stuffing
I used to not like bell peppers. Of course, I would eat them if they were cooked down until they were soft and had virtually no texture. Like in a gumbo, for example. It's impossible to escape the humble bell pepper in south Louisiana. The bell pepper is, after all, one of the ingredients that makes up the trinity. Onions and celery are the other two. Anyone from Louisiana knows that the trinity undergirds so many of our traditional Cajun and Creole dishes. It is unescapable indeed.
Growing up I did not like bell peppers. I remember my mother stuffing bell peppers from time to time. I ate the stuffing, and left the pepper. I thought of the bell pepper as just a "container" for the stuffing. Nothing more. If I ever found myself in a situation where bell peppers were present in a non-cooked-down form, I would simply pick them off. Especially if they were on a pizza.
I like bell peppers now. And when I make gumbo or jambalaya, I tend to add extra bell peppers. I don't know when that change occurred or why, but I'm glad it did. Perhaps my palate just grew up a bit. Or maybe I've just had the opportunity over the years to try bell peppers prepared (or used) in so many different ways. Whatever the reason, I now appreciate the semi-sweet green-like flavor of the bell pepper.
One of my favorite ways to prepare bell peppers (when I want to feature them) is to stuff them with beef, rice, tomatoes, and spices. There are many twists to stuffed bell peppers, the most popular of which – in these parts – would be Cajun or Creole. But today I want to share with you a Middle Eastern recipe for stuffed bell peppers. This recipe is made even more unique by the accompanying labneh, in which you can dip each bite of the pepper and the stuffing.
Why Middle Eastern stuffed bell peppers? Because I am very excited about my upcoming food & faith pilgrimage to the Holy Land, and I have been trying to stretch my Middle Eastern culinary muscles in preparation for the trip.
The recipe below will yield about 10 stuffed bell peppers, depending on the size of the peppers. If you want to make a smaller batch, just halve the recipe.
Enjoy!
Lebanese Stuffed Bell Peppers with Labneh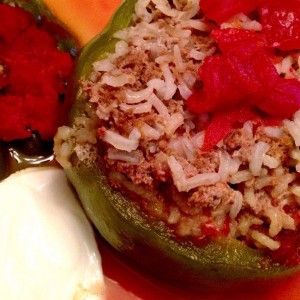 Author: Jeff Young
Cuisine: Middle Eastern, Mediterranean
Recipe type: Main
Ingredients
10 green bell peppers, tops cut off and seeds removed (reserve the tops)
28 oz can of petite diced tomatoes
5 to 6 cloves of garlic, crushed
2 lbs of ground beef
1 cup long-grain white rice
Half a stick of butter, softened
1.5 tablespoons Kosher Salt
1 tsp Cayenne
1 tsp Allspice (or Seven Spice, if you can find it)
Juice of one lemon
3 or 4 sprigs of fresh mint, chopped (about 4 teaspoons total)
2 quarts of beef stock or chicken stock (or water… enough to cover the peppers)
Instructions For the filling
Combine the following ingredients in a large mixing bowl: rice, ground beef, crushed garlic, about 14 ounces of petite diced tomatoes with juice, softened butter, 1 tablespoon of salt, and cayenne, Allspice or Seven Spice, two teaspoons of fresh mint, and the juice of one lemon.
Mix well by hand and set aside.  For the bell peppers
Wash the bell peppers well. Slice off the tops and removed the seeds.
Stuff each pepper loosely with the filling. Arrange them in a large pot so that the open ends are facing up. Add the remaining tomatoes to the pot and sprinkle peppers with the remaining salt and the remaining chopped mint, then place the bell pepper tops back on the peppers. NOTE: If you do not have a pot big enough, then arrange them in large pan, cover the pan with foil and bake in a pre-heated oven at 350 degrees for 45 minutes to an hour).
Fill pot (or pan) with beef (or chicken) stock so that the peppers are almost completely covered.
Bring to a hard boil, and allow to boil for a few minutes. Then reduce heat to medium and cover. Simmer for 45 minutes.
Notes
A note about the stuffing: Like the Kousa Mahshi (or Lebanese Stuffed Squash), the mahshi (or mihshi… or filling) for this recipe is about the same as it is for the Lebanese Grape Leaves, except here we are using beef instead of lamb. When filling the peppers, make sure you do so loosely because the rice will expand as it cooks.

A note about the labneh: Tart and creamy, Laban, or labneh, goes really well with this dish. Laban is a very thick Lebanese yogurt. We mix it in a bowl with some lemon juice and add a dash of salt… all to taste, of course. You can add a dollop to each bell pepper once it's served, or serve the labneh on the side.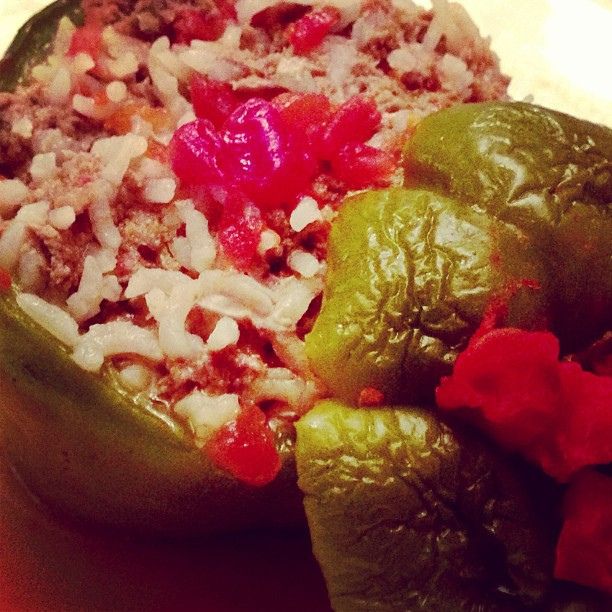 Do you have a favorite recipe that features bell peppers? Tell me about it in the comments below!
Bon appetit!
---
Join me in the Holy Land in February 2014!
DEADLINE TO REGISTER IS OCTOBER 25, 2013!
Register between now and October 1st and receive $50.00 off, plus get a free copy of Jeff's collection of Middle Eastern recipes!
Contact Information
Susan Prendergrast
(800) 842-4842
catholicfoodie.com/holyland
Join us as we PRAY and BREAK BREAD together in Israel
Experience food preparation and cooking demonstrations led by "Catholic Foodie" Jeff Young and the "Chefs For Peace."
We will not only WALK WHERE JESUS WALKED, and PRAY WHERE JESUS PRAYED, but EAT WHAT JESUS ATE!
Price of $3,795.00 includes airfare from Atlanta, Philadelphia, or Newark.
3 nights in Nazareth and 5 nights in Jerusalem
Highlights include:
Celebrating Mass at Mount Carmel, the Church of the Nativity, the Mount of the Beatitudes, the Basilica of Agony in the Garden of Gethsemane, and the Church of the Holy Sepulchre
Renewing Marriage Vows in Cana and Baptismal Vows at the River Jordan
Visiting the Churches of the Annunciation, Visitation, and Assumption
Sailing on the Sea of Galilee and Swimming in the Dead Sea
Touring a Franciscan Winery in Bethlehem and a Brewery in Taybeh
Praying the Stations of the Cross on the Via Dolorosa, and visiting the "Wailing Wall," the "Upper Room," the Palace of Caiaphas, the Pools of Bethesda, the Mount of Olives , and Dormition Abbey
And finally a Farewell Supper at Emmaus
Details and registration form are at /holyland