July 10, 2009
CF28 – Theology on Tap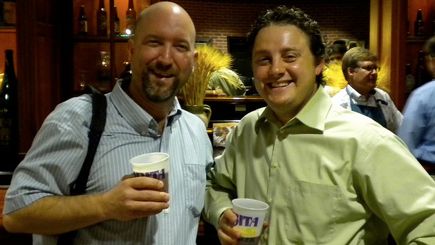 On the menu today… feedback from a very special person, a discussion (inspired by Fr. Oscar Lukefahr, CM) about food and happiness, and interviews from Theology on Tap. Join us here on the Catholic Foodie, where food meets faith!
The Search for Happiness by Fr. Oscar Lukefahr, CM
Catholic Foodie interview with Mr. David Blossman, President of Abita Brewing Company
Catholic Foodie review of Abita's Strawberry Harvest Lager
Catholic Foodie review of Abita's Abbey Ale
Voice Feedback: 985-635-4974
Email: jeff@catholicfoodie.com
Don't forget to join the Catholic Foodie Facebook page and… follow the Catholic Foodie on Twitter.
Bon appetit!
To leave feedback for the Catholic Foodie, call 985-635-4974 and leave a message. You can also leave feedback for me at jeff@catholicfoodie.com.
Download episode 28 here or listen to it below:
If you like what you see and hear at the Catholic Foodie, please consider leaving a tip!

$2, $5, $10, or any amount… Your tip is greatly appreciated! Thank you!
Get new episodes of the Catholic Foodie by subscribing for free via iTunes or in another podcatcher. Find me also at SQPN.com.
You can also find me at:
the Catholic Foodie on Facebook
the Catholic Foodie on Twitter
And over at http://jeffyoung.me