October 30, 2013
Lebanese Lentils and Rice Soup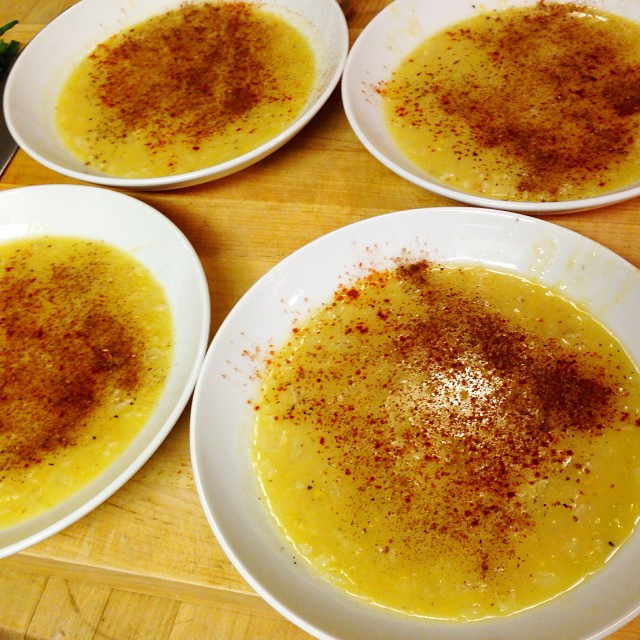 Lebanese Lentils & Rice Soup
Just a few weeks ago I shared with you a recipe for Lebanese Spinach & Lentil Soup, and here I am again talking about lentils! But they are just so delicious and super-quick and easy to cook!
There are many ways to prepare lentils. Mujadra – another Lebanese lentils and rice dish – is one of our family favorites. Mujadra is not a soup though. It's thicker, like a porridge almost.
Lentils are a staple in Middle Eastern cuisine, and I have already shared a couple of recipes that feature lentils here on CatholicFoodie.com:
Quick and Super-Easy to Make
This soup really is super-easy to make. There are only a handful of simple ingredients, and the meal was cooked – from start to finish – in under an hour.
Lebanese Lentils and Rice Soup Recipe
INGREDIENTS
2 cups dried red lentils
16 cups of water
½ cup uncooked brown rice
2 large sweet yellow onions, chopped
½ to ¾ olive oil (for sautéing the onion)
Kosher salt and freshly cracked black pepper, to taste
Cayenne, to taste (optional)
Arabic Seven Spice, to taste (optional)
INSTRUCTIONS
In a large heavy-bottomed stainless steel soup pot, bring water to a boil.
Rinse and drain the lentils, then add them to the boiling water. Reduce heat to medium-high and cook for 15 minutes.
In the meantime, sauté the onions in the olive oil over medium to medium-high heat, stirring regularly. Season the onions with salt and black pepper.
At the 15 minute mark, add the rice to the lentils and water. Allow to cook for about 20 minutes (though you may need to turn down the heat to medium, or even medium-low, toward the end of the 20 minutes).
Shortly after adding the rice, as soon as the onions have softened and become translucent, add them to the soup pot along with any residual olive oil. Taste soup for seasoning and add salt and black pepper as necessary.
Cook until tender (usually about 20 minutes).
Serve in bowls and season (optional) with a dash of cayenne and a few dashes of Seven Spice.
NOTES
A Note about Seven Spice:
Arabic Seven Spice is a blend of seven spices (cinnamon and cardamom are two of them) that yield a slightly spiced taste to dishes. It is also beautifully aromatic. If you can't find it in stores, you can get it online from Amazon.com, or you can substitute Allspice. Just experiment and see what you like.